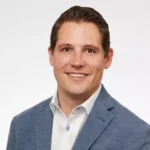 Founded Kruger Family Industries in 2014
Kruger Family Industries ("KFI") is a family-owned manufacturing conglomerate focused on Returnable Packaging (www.trienda.com), OEM Components (www.penda.com) and Automotive Accessories (www.duraliner.com). The Company has three manufacturing facilities across the United States and Mexico that employ approximately 1,000 people.
Founded the Fusion Group, Ltd. ("Fusion"), a captive insurance company based out of the Cayman Islands in 2018. David currently serves as President and sits on the Board of Directors.

Janet Johnson has many years of experience in the sales and marketing area, particularly in the development of large volume, high level sales and cause related marketing programs.
Janet holds a BA in Communications, minor in Advertising and concentration in PR from Oakland University in Rochester, Michigan. 
Janet is an active board member of multiple organizations including the Affiliated Staffing Group, Wisconsin Association of Staffing Services, Garding Against Cancer and the Wisconsin Recruiters Network. Janet is the Past-Chair of the Board of Directors of the American Red Cross Badger Chapter, and a past board member of Catholic Charities. She has served as an alumni member of Leadership Greater Madison, the site council board for the Oregon School District, and has been an Ambassador for the Madison Chamber of Commerce